The ZPG owned cloud-based property software for sales, lettings, property management, website and client accounts has been out of action for most of the morning.
A number of agents have got in touch with EYE to express their displeasure that they are currently unable to access their Jupix CRM.
A message to users was posted earlier today: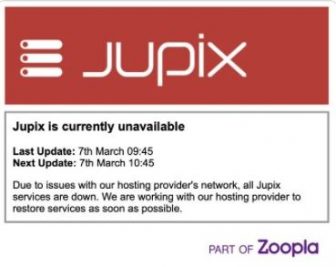 EYE contacted Jupix's owner.
A Zoopla spokesperson said: "We're aware that Jupix customers are currently experiencing an error accessing their software and appreciate the inconvenience this has caused. This is due to an issue with our hosting provider and we're working with them to resolve this as soon as we can as a matter of priority."