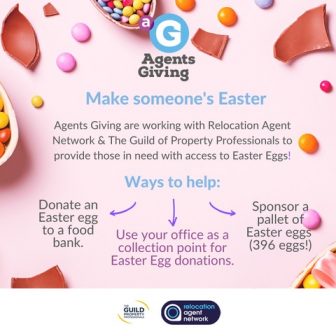 Agents Giving alongside The Guild of Property Professionals and Relocation Agent Network are spearheading an Easter Egg Appeal to provide Easter eggs to those in need this Easter time.
With Easter around the corner now is the perfect time to consider helping families in our local communities with the gift of chocolate eggs and treats to make Easter that extra bit special for children who may not ordinarily have the joy of an egg.
Use your office as collection point to collect chocolate eggs of all shapes, sizes, and themes which you can then donate onto your local food bank who will distribute the eggs to people who are struggling to make ends meet in the current times.
When people are facing hardship treats like chocolate eggs are simply unaffordable so this is where we can all help to make a big difference by making these generous donations.  With egg donations food banks can supplement the basic food parcel to local families and help bring a smile to children receiving their egg.
The Guild of Property Professionals, Relocation Agent Network, Paramount, Drivers & Norris, Thomas Charles, Griffin Residential, Stephen J Brown Consultancy, Dawsons and many others are all holding their own Easter collections around the country to help local children this Easter.
Find out more and sign up to donate by clicking here.