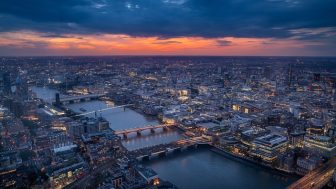 Up to 40% of offshore companies fail to comply with the identity of overseas homeowners, which presents potential issues for estate and letting agents, particularly in London which is home to the most homes owned by these foreign entities.
Given that many overseas firms are failing to comply with the UK government's insistence that they declare who the true owners of the property are, identity verification provider, Credas Technologies has looked at what sales and lettings agents should do if approached by one of these companies to sell or let their portfolio.
It is estimated that there are currently 32,440 offshore companies who hold land titles across the nation, with these companies located in as many as 140 different foreign countries.
Between them, they are thought to own as many as 92,750 properties, but while we may know who the offshore entities are, the identities of those who own these properties is far harder to ascertain.
London is the current hotspot for foreign owned properties via overseas companies, with the 41,171 properties owned by these companies accounting for 44% of the total for England and Wales.
The South East (16%) and the North West (12%) are also home to some of the highest number of properties owned by overseas entities, while Wales has the lowest level, accounting for 2% of the total.
In an attempt to add transparency around overseas owners of UK property, not least in the light of the recent sanctioning of Russian oligarch property owners, the UK government has created the Register of Overseas Entities, which was introduced as part of the new Economic Crime Act 2022 (Transparency and Enforcement).
Offshore companies holding property within the UK were told they had until January 31st 2023 to register and reveal the true identities of property owners they are representing. But, with that deadline now passed, it is believed that 13,000 entities have failed to declare their beneficiary owners. This equates to 40% of all overseas entities in the UK market.
This lack of compliance puts the entities at significant risk of legal action. This might include daily fines of up to £2,500; tight restrictions when buying, selling, transferring, or leasing property or land within the UK; or even up to five years in prison.
The fact that so many offshore agents have failed to comply with the January deadline means there are a lot of property portfolios still out there for which the beneficiaries have not been identified or verified. As an estate or lettings agent, what should you do if approached by an offshore company looking to sell or let their portfolio?
Agents working with an overseas entity are being encouraged to check whether they have registered their ownership with Companies House. They should be able to provide you with a registration number which can then be checked against Companies House Records which is a list of all beneficial owners. Even where an overseas entity is registered, and the ubo(s) listed, the estate agent still has the requirement to do their own independent checks
If, however, they are not registered and have no verification ID with Companies House, it should be considered a red flag. By now, there is no excuse for overseas entities to have failed to register, so one must suspect that they've actively decided not to.
When this red flag appears, it's time to seek professional advice to help you better understand your responsibilities as a property professional and how best to act with an unverified foreign entity.
They will help guide agents through the steps you need to take, and explain any obligations you have to report the unverified agent.
Tim Barnett, CEO of Credas Technologies, said: "Huge swathes of the UK property market are owned by overseas investors. For all its trials and tribulations, the UK is still a hugely attractive place for foreign investors who are particularly drawn to high value, high profile buildings in our major cities.
"But, as we've seen with the recent Russia sanctions, far too many of these overseas investors aren't operating within the guidelines of the law and so it can only be assumed, they are using UK property to facilitate less than savoury activities.
"The purpose of registering the true owners of these portfolios is to add transparency but also to help better sniff out the bad apples from the genuine, honest investors.
"When UK property professionals are approached to facilitate the transaction of property owned by overseas entities, you would hope that a simple check of the government database would tell you if you should or should not get involved. But the lack of compliance means that the true identity of too many owners remains completely unknown."