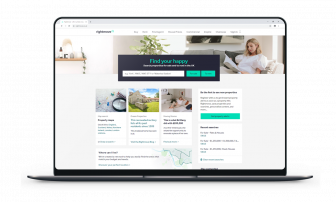 As the battle of the online portals continues, with Zoopla and OnTheMarket battling for greater market share, some commentators believe that Rightmove has been the real beneficiary of the war of the websites in recent years.
While estate agents face challenging market conditions, Rightmove reports that revenue increased significantly in 2022 as agents paid more to advertise homes on its website – the average revenue per advertiser (ARPA) is up 11% to £1,314 per month (2021: £1,189); second-highest year ever for absolute ARPA growth.
Regardless of higher costs, Rightmove's membership numbers have remained virtually unchanged at 19,014 (2021: 18,969), with agency branches down 178 and new homes developments up 223 since the start of the year.
Commenting on Rightmove's annual results, Julie Palmer, partner at Begbies Traynor, said: "Rightmove has become the Google of the UK's property market, with the business now the starting point for anyone even thinking about moving home. Estate agents depend on it, and it's the public's first port of call for a 'through the keyhole' look behind closed doors that was unimaginable a generation ago.
"Putting that dominance into practical terms, the 16.3bn minutes users spent on the site last year is equivalent to every man, woman and child in country spending four hours scrolling through its listings, even if rising interest rates and the cost of living crisis means it's getting harder to actually buy.
"Although traffic on the site wasn't quite as busy as last year, when pent-up demand after pandemic lockdowns unleashed a wave of buyers, Rightmove still increased revenues and profits, with users spending more as online continues to disrupt the traditional high street estate agency model. Even the mini-Budget sending shockwaves through the market as interest rates soared didn't derail Rightmove, with agents having to work harder for sales, and needing to promote properties more, driving even more interest in the online portal."
Of course, the benefit of Rightmove membership goes well beyond simple listings, with agents also offered access to a range of insightful and practical tools, including Rightmove Intel, which maps out potentially new instruction opportunities, and free webinars from Rightmove and people within the industry.
Palmer added: "Property prices may be softening but with estate agents so dependent on Rightmove, the company's got a place in the market that allows it to weather downturns and a model that means its future is assured unless another competitor offering comes along and ends its dominance."
EYE NEWS UPDATE: Rightmove 'average revenue per advertiser' soars by 11%