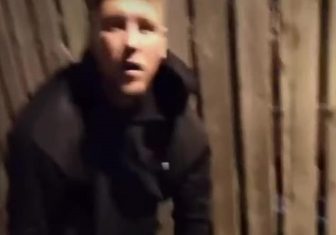 A married estate agent who was caught performing a sex act in public with rugby star Joe Westerman has reportedly been sacked from her job.
We have decided against naming the woman, or the agency who employed her, but she and the Castleford Tigers player, both 33, were filmed by a passerby who caught them in the act following a night out in Pontefract, West Yorkshire at the weekend.
According to the sportstar's wife Lauren Westerman, 33, the woman, thought to be the spouse of one of Westerman's best friends, lost her job after the footage went viral on social media.
The graphic seven-second clip, filmed in a dark alley behind a branch of Greggs, was uploaded on to Twitter.
Lauren Westerman said her husband's actions had caused irreparable harm to her and her children and that their marriage is over.
Speaking about the woman in the video, Ms Westerman told the Sun: "It's the children I feel for. Our children and her children.
"She'll [the sacked estate agent] never live it down. She's lost her job and there are memes of her sweeping the internet, her children are going to see that."
Ms Westerman added: "Truth is, he only told me because it was on social media. But I'm glad it was found because the thought of kissing him after that just makes me feel sick."