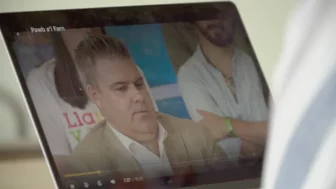 Independent estate agent Ian Wyn-Jones is facing allegations that he misled some of his former clients after being instructed to sell their properties.
In an investigation by the current affairs series Y Byd ar Bedwar in Wales, former customers of Wyn-Jones claim he created fake visits and feedback, false offers for houses, and failed to pass on offers to sellers. The allegations range between 2019 and 2023.
Wyn-Jones, from Anglesey, has two decades of experience in the industry, and operates as a self-employed estate agent under the eXp UK brand.
According to the Y Byd ar Bedwar investigation, in May of this year, Iolo Williams from Caernarfon, Gwynedd, put his house on the market with Wyn-Jones, but he now feels that he and his partner, Jennifer Jones, have been misled.
"If I knew what I now know, I would never have opened the front door for him," Jones said.
They both accuse Wyn-Jones of creating a fake buyer, as well as a false offer for the house that did not actually exist.
The couple also say Wyn-Jones turned down offers for the house on their behalf, failing to pass on two offers to them as vendors.
Y Byd ar Bedwar says it has verified the accusations of Williams and Jones, who have also made an official complaint to eXp UK.
As part of the investigation Y Byd ar Bedwar spoke with other former customers who believe that Wyn-Jones created false visits, and provided fake feedback about these viewings.
In 2019, Nia Williams began the process of selling a house in Abersoch in Gwynedd, with Wyn-Jones. As Williams lived on Anglesey the house keys were kept in a box safely outside, and an access code was required to open the box.
After several alleged offers for the house fell through, Williams started to suspect that Wyn-Jones was not being honest with her. She changed the access code of the box where the house keys were kept, without informing the estate agent..
Williams claims that Wyn-Jones said there were several viewings following this, and that he provided false feedback about those viewings.
"He was giving feedback saying 'the couple love the house, they do this as work and they love this piece of the building,'" she said.
Williams told Mr Wyn-Jones she knew the visits had not taken place, ending his service shortly afterwards.
"I told him: 'These haven't happened Ian. You've shattered our hopes, I pinned every single hope on selling this house for me and you've lied to us. He didn't know where to put himself."
Tracy Jones from Pen-y-groes in Gwynedd Y Byd ar Bedwarr also said Wyn-Jones gave her false feedback about a visit that did not happen in February 2023 when she was selling her late mother's house.
"[My partner] was here half an hour before the appointment, and half an hour after the time I had on my phone, and [my partner] rang and said 'Tracy nobody came in'," Jones said.
Wyn-Jones had confirmed to Jones that the visit had gone ahead during the scheduled time, but this did not match with what Jones' partner saw.
"It's taking me to a dark place thinking about him. I feel like I've let my family down by trusting someone I don't know".
Williams added: "It shatters people's dreams".
While unable to discuss specific allegations about Wyn-Jones, Alison Farrar of National Trading Standards said misleading customers is against the law.
Farrar said: "This is the most vulnerable time of our lives when we're buying and selling our home. It takes all of our money, all of our resources, and sometimes we have to pay a mortgage for 25 to 30 years. It's the biggest purchase of our lives and that transaction needs to go smoothly for consumers."
The investigation featured on Y Byd ar Bedwar yesterday and is still available to view on S4C, S4C Clic and BBC iPlayer.
eXp UK told EYE this morning: "Ian Wyn-Jones is an independent estate agent in his own right and a highly successful one in North Wales with a track record of selling a high volume of properties over many years.
"In 2021 Ian began working alongside eXp as his platform of choice and which provides marketing and administrative support to him.
"The S4C programme broadcast yesterday raised issues that we are now investigating with a view to deciding upon a course of action once that investigation is complete. It would be premature to comment further until then except to say that much of the S4C programme was dedicated to alleged issues from 2019 and therefore before Ian joined eXp.
"We also note that National Trading Standards have stated that they are not minded to take matters further due to insufficient evidence provided but we will be contacting NTS to glean any further information that we can in order to ensure that our investigation is thorough and balanced.
"We will make a further statement once our internal review of the matter has concluded"