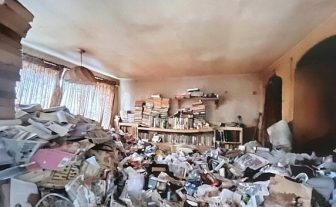 Haart in Hucknell, a market town in the Ashfield district of Nottinghamshire, has been slammed by house hunters for attempting to list a decrepit, rubbish-strewn and mouldy house for sale at an asking price of  £200,000, dubbing it a 'rare opportunity'.
Photos of the filthy home, listed on Rightmove, show every room of the house in a terrible state, piled with waste, mould and damp on the walls.
The living room (see picture) appears inaccessible for anyone trying to get into the space with old newspapers, books and food wrappers stacked on top of one another.
The three-bedroom property listing, located near Mansfield, Nottingham, has been ridiculed by house hunters.
One joked 'wall of trash anyone?' while another added 'definitely Wrongmove'.
A description of the property on Rightmove read: '£200,000. A rare opportunity.
'This three-bedroom detached property is perfect for anyone looking for a project.'
It went on to add that the property 'could be the perfect family home with three large bedrooms, a fantastic entrance hall, large kitchen and open plan living/dining room'.
Images, however, show the true extent of the clearance work needed on the property: the kitchen has a caved in ceiling; the toilet itself has been taped off with the warning 'do not use'; the downstairs living space shows empty bottles, discarded chairs and shopping bags amongst the high piles of rubbish; the main bedroom is piled high with rubbish, while damp patches stain the yellow walls.
A number of people have taken to social media questioning the listing.
Here are just a few of the messages posted:
One said: "I feel so much better about my own housekeeping now".
Another added: "This is just very sad. But also I find it annoying when the estate agents don't even acknowledge the state of it.
"I don't think referring to it as "a project" really cuts it."
"Wow, £200k for the honour of hiring a biohazard cleaning crew," another joked.
"P****d me right off when they put '£200,000 at the start as if they are doing you a favour at that price," another remarked.
"Massively overpriced sh**hole, look at the state of it."