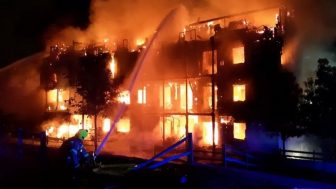 The Assistant Commissioner of the London Fire Brigade has said that some developers are 'gaming the system' in an effort to avoid the fire safety regime that was introduced following the Grenfell Tower disaster in June 2017 that killed seventy-two people.
Paul Jennings was being interviewed on the BBC Newsnight programme and said:
"We're seeing examples of where there may be instances of 'gaming the system'. Builders will look to reach the minimum standard or, if the guidance doesn't specifically say they cannot do something, they will bend those rules accordingly because of that. Currently, this is what we're seeing. We're not seeing the cultural changes that we would expect.
"We have examples of where we think people may be deliberately designing and building their structures below that 18-metre, six-floor threshold because they know that, if they breach this threshold, they will have to put in advanced and more intricate fire safety measures as part of the mix. That 'gaming' of the system continues. It's not acceptable. It's not the cultural change that we all want to see within the built environment."
He was asked by interviewer Lewis Goodall: "Let's be clear. How many buildings do you think are being built now, today, concurrently, that you're concerned about in terms of them still not having the right standards?"
Jennings replied: "Potentially, we're seeing around 60% of the building consultations that come into the remit of our fire engineering team and others being of concern. That gives you some idea of the quantity. Bear in mind that we're dealing with thousands of consultations every year. So that's hundreds, if not thousands of buildings where we're not seeing people grasping what we would anticipate them wanting to provide.
"In short, the 'Gold Standard' for fire safety rather than just meeting the bare minimum requirements. We would always encourage them to go for the 'Gold Standard'."
Later, referring to the exchange, building safety minister Lord Stephen Greenhalgh tweeted: "It's shocking that the construction industry is still trying to 'game' the system and cut corners on fire safety. Paul Jennings is absolutely right to call this out."
The Fire Brigades Union is scathing about the government's handling of the crisis.
Andy Dark, assistant general secretary of the FBU is reported as saying:
"There's a massive building safety crisis across the UK and residents are rightly concerned about safety in their homes. We've been increasingly concerned about the growing evidence suggesting that the Westminster Government, landlords and the construction industry are trying to avoid taking responsibility.
"It comes as no surprise to learn that players within the building sector could be 'gaming the system' in a bid to avoid compliance with the extremely limited improvements in the Building Regulations.
"Ministers should listen to fire professionals and provide the regulations and funding necessary to solve this crisis. The Prime Minister should be taking personal charge of introducing immediate action and bring in watertight legislation that prevents dodges and loopholes like those outlined by Paul Jennings on Newsnight from being possible.
"Hand-wringing and mealy-mouthed words from the Government are worthless. It's actions that matter."