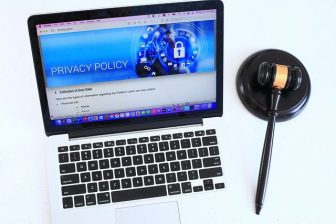 I know, news of the proposed Data Reform Bill as referenced in this month's Queen's Speech has no doubt already hit you between the eyes as of key importance.
Seriously, what with legislative announcements around empty homes, planning reform and tightening landlord and tenant regs still further, it probably did pass you by.
Yet to repeat a modern anecdote, data really is the new oil and with such opportunity and power comes the need for responsibility and indeed regulation.
The property industry uses huge amounts of data whether for lead generation and marketing purposes, in conveyancing and indeed, where my sector is concerned, in the identification and verification of people and documentation.
The collective gathering and centralisation of data in property is happening and fast. Digital ID verification is big business and not just in property but in ePassports, finger-print recognition, facial recognition and so on. When you think about it, our everyday lives are dominated by and influenced by data in technology… think about how you open your iPhone for instance. That's data stored with Apple that ties your face and/or your fingerprint to your name, your phone number, your gender and, yes, then to your browsing habits and your shopping preferences.
Then, when you weave in how Google and Facebook ads work by way of retargeting you once you've visited various websites or input an interest or a preference in your social media accounts, we see that we are already a digitally centralised, ID led society.
In the Queen's Speech the Prince of Wales on Her Majesty's behalf set out plans to better regulate data to ensure that it is more secure and that access becomes standardised but safe especially between authorities that hold sensitive data such as the passport office, the DVLA etc, and the private sector and their users.
The property industry is set to benefit hugely from this with the Digital Identity Trust Framework (DITF) and which I'll come back to shortly.
So, you may by now be screaming 'ID Cards'. In other words is all of this about introducing public identity cards albeit digitally through the back-door? And the answer from Whitehall is a resounding no. They have gone on record to state that ID cards are, well, literally not on the cards and so I think we can breathe easy in that respect.
But, back to the property thing, and how this all matters to you as a property audience…
Anti-money laundering (AML) checks are a fact of life in your business. Legislation dictates that all properties listed must involve an AML check on all of the owners and, now, on the buyers too. Right to rent checks and so on are part of your day. Digitising these as we have at Credas, is a more efficient, faster and cheaper way to carry out these checks and the process ensures no errors or omissions which would otherwise lead to chastisement from the authorities.
But where the proposed legislation from this weeks' Speech now takes us is to a place that will join the dots together on ID verification whereby agents at the coal-face of AML checks will carry out the required checks and those entities further down the sale that also need to perform these checks will in effect use the same record – one check only. So, lawyers, mortgage brokers and lenders and so on will save time in that one check will suffice and there is a likelihood of less fraud too. The time saved will be sure to speed up the overall transaction time and put money in agents' pockets faster.
And of course, faster sales mean less chance of fall-throughs.
The essence of the forthcoming Bill will be:
To establish governance around the Trust Framework, to make sure its rules and standards are being followed by those that want to gain a 'trust mark'; make it possible for more trusted data sets to be checked, so people can more easily prove things about themselves as they create a digital identity or seek to use one to prove their identity or eligibility to access products or services
build confidence in the legal validity of digital identities
Rest assured, the DITF is coming and, some may say for once, it is a government policy that will significantly benefit the property industry and estate agents in particular.
Tim Barnett is CEO of Credas, a digital AML platform for the property industry.