My Property Box acquires Richmond-based Garrison Lettings.
The deal strengthens the Darlington-headquartered letting agent's presence in North Yorkshire and is part of its long-term growth strategy.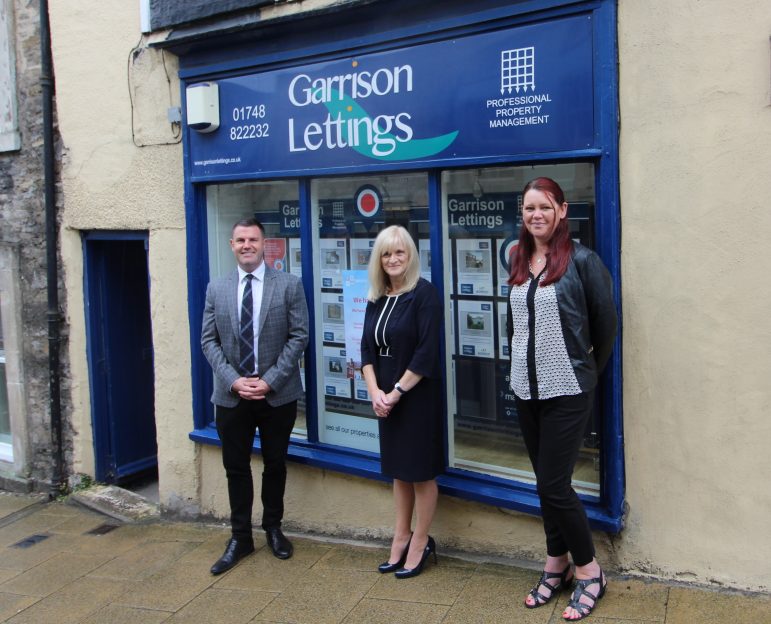 Garrison Lettings was co-founded by Jill Atkinson who, with the support of office manager Maria Hawkswell, has run the business since 2004.
As part of the deal its office, located in Richmond town centre, has closed, and Jill and Maria have transferred to the tenancy management team operating from My Property Box's office on Grange Road, Darlington.
It is the third such deal the innovative lettings agent has completed during the past 18 months and follows the takeover of Thornaby-based Holt Estate Agents, and Sandersons Lettings, which had an office in Duke Street, Darlington.
Ben Quaintrell, founder and managing director of My Property Box, said: "This deal underlines our commitment to strengthening and growing this business that was established only eight years ago.
"I'd like to welcome Jill and Maria onboard. Their knowledge and experience of the lettings industry and North Yorkshire property scene will be a real asset to the team.
BBC to investigate 'financial independence' trainers
The BBC is seeking people who have been failed by online training courses that claim to offer a fast track to financial independence but actually provide little value for money.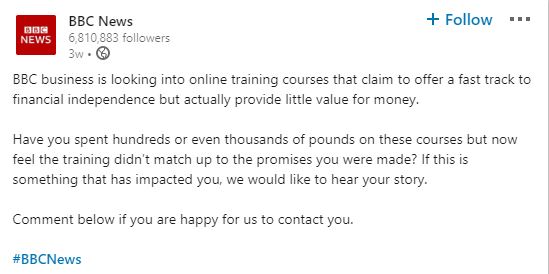 A post on LinkedIn by BBC Business soon attracted a number of responses including one which said: "I spent thousands on a Property Investment course, miss sold [sic] using pressure selling techniques, put me in serious financial difficulty and debt, I could not afford the course, but was sold a dream which did not exist, still feeling the effect over a year later and probably will be for the next few years and happy to be contacted."
Leaders Romans Group opens virtual branch in Sheffield
Property service provider Leaders, an LRG company, is expanding into South Yorkshire with the launch of a new virtual branch in Sheffield.
Through its virtual office, Leaders' new branch will offer a complete range of lettings services. It will be headed up by Rebecca Wood, who has worked within the property sector for nearly 10 years, and has spent the last four with LRG.
Peter Kavanagh, CEO at LRG, said: "The launch of our virtual office in Sheffield demonstrates our commitment to the innovation and continued delivery of customer service in a growing number of areas. We feel Sheffield is a tremendous place to live and work for tenants and landlords, with new planned transport links into London, two renowned universities and an increasingly diverse population."
Agents to assist in fight against vice
Those of a certain age will remember London estate agent, Roy Brooks, whose legendary and hilarious national advertising from the 1960s can be found in the little book:  'Brothel in Pimlico'.
He would have appreciated that this week stiffer penalties will take effect to harden up the efforts to stem the rising trend of vice in the heartland of Singapore.
To curb the setting up of brothels in residences, a home owner or tenant who rents or sub-lets a premises that is used as a brothel will be criminally liable, unless they can show they had no knowledge and could not have, with reasonable diligence, ascertained that the place was to be used for such a purpose.
The Ministry of Home Affairs said that it is also partnering with the Council for Estate Agencies, property agencies, and agents to assist and advise property owners and tenants on how to conduct due diligence checks.
Leap in sales at iamsold
iamsold says it sold 445 properties via the Modern Method of Auction last month, up 33 per cent year-on-year.
The volume of viewings was also up by 6 per cent and number of bids increased by 72 per cent compared to the same period last year, as activity in the buoyant post-lockdown market surged. 39% of buyers were purchasing for their own occupancy and the highest sale price achieved was £1.6m for a six bedroom cottage in East Wellow, Romsey.