Town and Country Southern estate agency in Drayton, Portsmouth, has launched a striking new board design.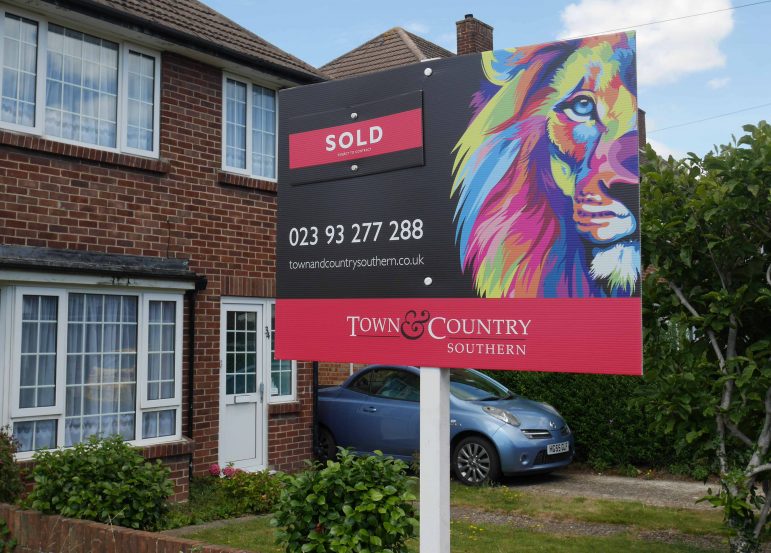 "We want people to know they are in with the 'mane' chance of selling when they instruct us to market their properties," says a tongue-in-cheek Colin Shairp, who founded the agency a decade ago.
"Town and Country Southern sells a great many family homes and I thought this really colourful sign would catch the eye, especially of children.
"I had done an audit of our old boards and we only had a small number left so it was a good time to strike out with a really effective replacement."
Moovshack launches new app 'to allow the entire property journey to be completed in one place'.
Moovshack has launched an app that it says provides one digital space to handle the full property acquisition cycle. Its platform directly connects consumers and agents, improving customer experience, reducing delays and duplications, and automating low level tasks. The app also reduces the need for face-to-face interaction, meaning agents and consumers can transact remotely.
With one tap, local agents are invited to send the seller their valuations, marketing approach and estimated fees. Valuations are sent back in-app in a standard format for easy comparison, after which the seller can schedule the best agents in the app for home visits.
The app provides thousands of listings, as well as direct access to all major property portals, so that buyers can search for a home on property websites and retrieve information instantly.
Meetings for onsite viewings or maintenance can be booked in-app and enables consumers to chat with agents and contacts, send and receive offers, documents, images and videos. Contracts, brochures and quotes can be stored, signed and approved without needing to post, print or scan them.
Using attribution software, combined with key strategic partnerships, Moovshack is free to list properties on and can help agents monetise up to 100% of their applicants compared with their current industry average of 5%.
Mick Silver, CEO and founder at Moovshack, commented: "It's high time the property industry innovated to provide a better service for the consumer.
"We want to give the consumer the digital tech they need to automate those time-consuming, low-level tasks, and interact at the touch of a button with estate agents whenever they need."