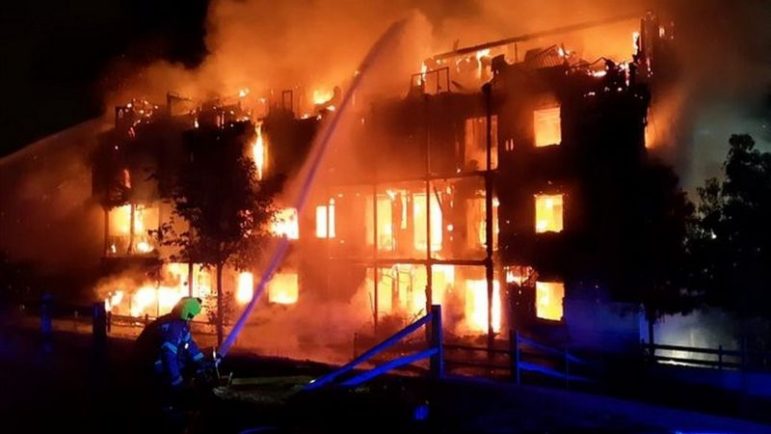 Protesters, worried their homes are "time bombs" due to having combustible cladding, are demanding developers take remedial action to make the properties safe.
On Saturday the group, comprising leaseholders, tenants and 'Action for Fire Safety Justice, gathered at a Nine Elms development in south-west London and at Salford Quays in Manchester, targetting their protest at developers Barratt, Bellway, Berkeley, Ballymore and Taylor Wimpey, which all have buildings on the Nine Elms site.
The protesters are calling for remedial work to be carried out to avoid another Grenfell fire disaster.
Rebecca Fairclough, co-leader of 'Manchester Cladiators' which organised the Salford protest, said: "The government is still not doing anywhere near enough to finally bring an end to this living nightmare. We are physically, financially and mentally trapped in unsafe homes.
"We need the government to finally and fairly ensure there is a solution that truly protects the innocent victims of this crisis."
Adeline Tsang, a retired nurse who lives at Royal Artillery Quays, a development in Thamesmead in south-east London built by Barratt, said she has nightmares about her home catching fire.
We are living in a time bomb, We feel helpless.'
'I had a very successful career. Now my savings have been getting a hammering. I wanted to retire with my nest egg but now it's all gone. I am worried I will be bankrupt and homeless when I am not able to pay, on top of my mental health.'
Barratt said it understands that the 'complex issues surrounding fire safety guidance are causing distress for affected homeowners and leaseholders' and that the company was working with building owners and management companies to address the issues.
Natalie Carter, who lives at New Providence Wharf in Poplar, east London, a development by Ballymore that caught fire in May, said, 'If it were to happen again, which of course it could, and if it were to happen in the night, people would just die, there's no two ways about it.'
A spokesman for Ballymore said it was "working quickly to carry out remedial works across our portfolio" and that remidial work at New Providence Wharf would be at no cost to leaseholders.
Taylor Wimpey, which was also named by protesters, said customer safety was of paramount importance and that money had been assigned to bring buildings it has built over the past 20 years up to current standards.
The Ministry for Housing, Community and Local Government said:
"We are spending over £5bn to fund the replacement of unsafe cladding. We've been clear throughout that owners and industry should make buildings safe without passing costs on to leaseholders.
"Our new measures will introduce a legal requirement for owners of high-rise buildings to prove they have tried all routes to cover the cost of fixing their buildings."
For residents of affected buildings the replacemant of unsafe cladding cannot come soon enough.
Party leader proposes 'a clear and fair long-term plan to resolve the cladding crisis'