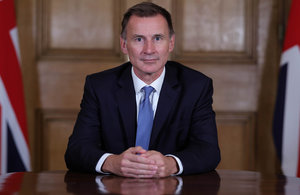 The chancellor Jeremy Hunt met the UK's principal mortgage lenders and the Financial Conduct Authority (FCA) on Friday to agree support for people struggling with mortgage repayments.
It added that the proportion of disposable income spent on mortgage payments is currently at 5.4%, compared to around 10% in the 1990s and prior to the financial crisis.
The average homeowner re-mortgaging over the last 12 months had around a 50% loan-to-value ratio. This indicates homeowners have considerable equity in their homes, which makes it easier to manage repayments. Lenders have less than 10% 'owner-occupier mortgages' on their books with loan-to-value rates greater than 75%, compared to around 25% before the 2008 financial crisis. Taken together, this puts the market in a significantly stronger position than before.
The lenders – which cover over 75% of the market – agreed to a new mortgage charter providing support residential mortgage customers. These are:
+ Anyone worried about their mortgage repayments can call their lender for information and support, without any impact on their credit score and we would encourage you to contact your bank who are there to help.
+ Customers won't be forced to have their homes repossessed within 12 months from their first missed payment.
+ Customers approaching the end of a fixed rate deal will be offered the chance to lock in a deal up to six months ahead. They will also be able to apply for a better deal right up until their new term starts, if one is available.
+ A new agreement between lenders, the FCA and the government permitting customers to switch to an interest-only mortgage for six months, or extend their mortgage term to reduce their monthly payments and switch back to their original term within the first six months, if they choose to. Both options can be taken without a new affordability check or affecting their credit score.
+ Support for customers who are up-to-date with payments to switch to a new mortgage deal at the end of their existing fixed rate deal without another affordability check.
+ Providing well-timed information to help customers plan ahead should their current rate be due to end.
+ Offer tailored support for anyone struggling and deploy highly trained staff to help customers. This could mean extending their term to reduce their payments, offering a switch to interest only payments, but also a range of other options like a temporary payment deferral or part interest-part repayment. The right option will depend on the customer's circumstances.
Hunt said: "There are two groups of people that we are particularly worried about. The first are people who are at real risk of losing their homes because they fall behind in their mortgage payments. And the second are people who are having to change their mortgage because their fixed rate comes to an end, and they're worried about the impact on their family finances of higher mortgage rates.
"So today I agreed with the banks and the principal mortgage lenders and the Financial Conduct Authority three very important things.
"The first is that absolutely anyone can talk to their bank or their mortgage lender and it will have no impact whatsoever on their credit score.
"The second is that if you are anxious about the impact on your family finances and you change your mortgage to interest only or you extend the term of your mortgage and you want to go back to your original mortgage deal, within six months, you can do so, no questions asked and no impact on your credit score. That gives people a powerful new tool for managing their monthly budgets – and it will begin taking effect within the next two weeks.
"And finally for people who are at risk of losing their home in that extreme situation, the banks and mortgage lenders have a number of things in place. The last thing that they want to do to repossess a home, but in that extreme situation they have agreed there will be a minimum 12 month period before there's a repossession without consent.
"These measures should offer comfort to those who are anxious about high interest rates and support for those who do get into difficulty.
"Tackling high inflation is the prime minister and my number one priority. We are absolutely committed to supporting the Bank of England to do what it takes. We know the pressure that families are feeling. That's why we've introduced big support packages around £3,000 for the average household this year and last.
"But we will do what it takes, and we won't flinch in our resolve because we know that getting rid of high inflation from our economy is the only way that we can ultimately relieve pressure on family finances and on businesses."
Also reflecting on the current mortgage market conditions, Martin Lewis, founder of Money Saving Expert, commented: "The unprecedented steep rise in mortgage rates is causing a nightmare for many with variable mortgages and those coming off fixes. Therefore, the most important thing we can focus on right now is appropriate, flexible forbearance measures. While the Bank of England's aim is intended to squeeze people's disposable incomes, no one wants people's lives to be ruined by arrears and repossessions – and that is the urgent protection we need to focus on.
"I met the chancellor on Wednesday and reiterated that the minimum we needed was to ensure that when people asked for help from lenders, they knew that if things changed, it wouldn't be detrimental to their financial situation and their credit scores would be protected as much as possible.
"I'm pleased to see it looks like the Chancellor has listened and those measures are going to be put in practice by the banks. We need to make sure everybody knows their rights if they are in trouble with their mortgage, so they can feel comfortable speaking with their lender and understand the measures that they can request for help."
Nikhil Rathi, chief executive of the Financial Conduct Authority, added: "The productive meeting builds on the work we've done over the last year to ensure those who get into difficulty receive the tailored support they need. We'll move quickly to make any changes needed to support today's commitments."
Chancellor's interventions in mortgage market could help 'avoid mass repossessions'