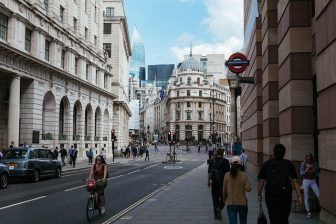 Another rise in UK interest rates today is inevitable. The only question is how far policymakers will go at their meeting this morning, as pressure grows on the Bank of England to increase interest rates significantly to help curb the highest inflation rate in decades.
The money markets are pricing in a 75 basis-point hike today, the biggest in 33 years, which would raise the Bank Rate from 2.25% to 3%.
Homeowners will be paying particular attention to any increase as mortgages are decided against this rate.
Those on Standard Variable Rates or tracker mortgages will be hit the hardest in the short-term by today's interest rate increase.
Kellie Steed, mortgage expert at money.co.uk, said: "The Bank of England is expected to hike interest rates a further 75 basis points. This would be the steepest increase since 1989 and would see interest rates increasing to 3%. The predicted rise in interest rates has been designed to tame inflation, however, it is likely that the rates will impact mortgage costs once again.
"For those on a fixed-rate mortgage, changes in interest rates will not apply until the end of your fixed-rate period. However, those on a variable-rate mortgage, such as a tracker or discount rate deal, the impact is likely to be much faster, resulting in an increase in the cost of your mortgage repayments.
"Tracker mortgages are aligned with the Bank of England's movements, whilst discounted mortgages are determined by your lender and based on their standard variable rate (SVR). The SVR is not explicitly linked to the Bank of England's base rate but is likely to be influenced by it.
Ahead of today's rate decision, Ray Boulger, senior mortgage technical manager at broker John Charcol said: "I think the buy-to-let market is where we're likely to see a lot more stress than the residential market.
"When you factor in the other impact of energy price increases and cost of living increases that can have a significant impact on what people can borrow."