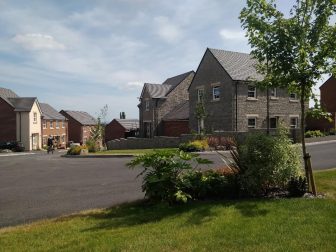 The average premium paid to purchase a new build property compared to the price of an existing home in Britain is 29%, new research shows.
Overall, the average price of a new build property in the UK is £323,667.
The greatest difference in price between a new build and the rest of the market is in Harlow, where the discrepancy has reached 106%, equating to a price difference of £290,424.
Blaenau Gwent in Wales followed, with the gap being 99%, with a price difference of £100,088.
Gravesham is also home to a large new build price premium, coming in 99% higher than the wider market, with Gravesham (93%) and Preston (90%) also home to a 90%-plus price premium.
Emma Power, COO of Warwick Estates, which analysed the data, said: "Despite the uncertainty posed by the pandemic the UK housing market has boomed and this is no different where the new build market is concerned.
"New build homes have continued to command a price premium in every region of Britain and this is not only good news for those developers delivering them to market, but also to new build homebuyers who continue to see their investment hold its value.
"In the best performing areas, new build property prices are as much as double that of the existing market which is proof of the value being added by the sector to the wider DNA of the national property market."
Table shows the new build and existing average house price across each nation/region of Britain and the difference
Location
Average New Build House Price
Average Existing House Price
New Build Premium (£)
New Build Premium (%)
North East
£206,963
£135,584
£71,379
53%
Scotland
£229,159
£158,862
£70,297
44%
East Midlands
£292,664
£209,770
£82,895
40%
West Midlands Region
£294,479
£213,450
£81,029
38%
North West
£250,579
£182,270
£68,309
37%
Wales
£239,299
£176,594
£62,705
36%
Yorkshire and The Humber
£232,671
£179,642
£53,028
30%
East of England
£389,416
£306,335
£83,081
27%
South West
£331,819
£276,985
£54,834
20%
South East
£401,362
£340,295
£61,067
18%
London
£508,782
£493,617
£15,165
3%
England
£333,823
£265,592
£68,232
26%
Great Britain
£323,667
£250,271
£73,397
29%
Data sourced from the Gov.uk UK House Price Index – New Build vs Existing (February 2021 – latest available data)
Table shows the top 10 areas with the highest new build price premium (%) when compared to the existing market
Location
Average New Build House Price
Average Existing House Price
New Build Premium (£)
New Build Premium (%)
Harlow
£565,501
£275,077
£290,424
106%
Blaenau Gwent
£201,289
£101,201
£100,088
99%
Gravesham
£559,089
£289,889
£269,200
93%
Preston
£263,481
£138,488
£124,993
90%
Torfaen
£306,459
£162,455
£144,004
89%
West Dunbartonshire
£216,075
£115,735
£100,340
87%
Rochford
£653,529
£350,215
£303,314
87%
Middlesbrough
£213,206
£116,361
£96,845
83%
Merthyr Tydfil
£210,193
£116,704
£93,489
80%
Nuneaton and Bedworth
£334,539
£186,272
£148,268
80%
Data sourced from the Gov.uk UK House Price Index – New Build vs Existing (February 2021 – latest available data)