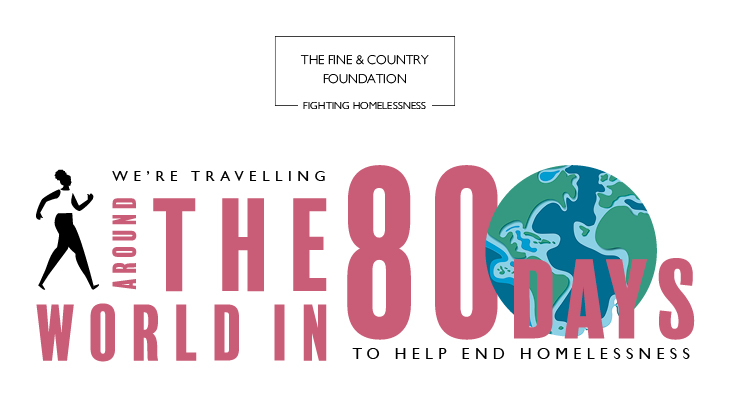 To mark 10 years since the Great British Property Cycle, The Fine & Country Foundation is upping the ante and embracing the organisation's international presence by taking on the circumference of the world.
Started on 1st April 2022, the Fine & Country network, along with their families, friends and local communities are taking part in a challenge to accumulate a combined distance of 40,070km in 80 days.
Aptly named the Around the World in 80 Days Challenge, participants have pledged to raise money for The Foundation while clocking up the mileage by walking, running, cycling, or swimming – every step and penny counts.
Jon Cooke, Trustee of The Fine & Country Foundation, says:
"We have a lot of agents and offices that hold their own fundraising events and have done remarkable things for The Foundation over the years.
"This year we wanted to do something together as a group on an international scale that would help to raise funds for The Foundation to ensure that we can help as many people as possible in our upcoming grant schemes.
"We announced the initiative at the recent Fine & Country conference and have had a flurry of agents who have signed up and are eager to lace up their running shoes and get moving."
All the kilometres for the challenge will be tracked on a fitness app, which will have a leaderboard of who is clocking up the biggest distance.
"You don't find yourself in the property sector unless you have a competitive nature. It will be interesting to see how the challenge motivates people to go that much further, and all for a good cause, which will surely add more to the tank," says Cooke.
A JustGiving page has been set up for the challenge to assist participants with fundraising.
Jon Cooke concludes:
"This is an opportunity for those taking part to get active and enjoy the warmer weather while helping to raise awareness and funding for a charitable cause.
"As an organisation, The Foundation is committed to supporting charities that are working to help those afflicted by homelessness and poverty. Through the annual grant schemes, The Foundation has been able to act as a lifeline for many homeless charities internationally.
"We are hoping that this initiative is one of our most successful fundraising endeavours to date that will be able to assist many people around the globe."