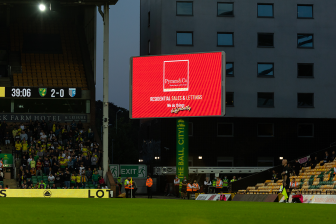 Norwich City is the latest Premier League football club to announce a regional partnership with a local estate agency.
Pymm & Co has become the club's official Regional Club Partner in a one-year deal.
During the Premiership 2021/22 season the Pymm & Co brand will be highly visible throughout all the home games played at the Carrow Road stadium.
The agency's brand will be visible on the super massive screen that sits prominently in the corner of the Barclay End as well as playing an animated sequence on the Digi board that displays around the pitch. The company will also be featured in the match magazine as well as throughout the corporate screens playing within the stadium.
Steve Pymm, managing director of Pymm & Co, said: "I am delighted to become a regional partner with Norwich City Football Club. I have held a season ticket at the club for many years with my wife Catherine and our two daughters so it's a very proud day for me and my family business Pymm and Co Estate Agents and Lettings to be partnered with NCFC."
This is such exciting news for the Pymm & Co business as it will give the firm maximum exposure as the premiership games are televised to millions across the country.
Sam Jeffery, interim commercial director at Norwich City Football Club, said: "We are delighted to be able to add Pymm & Co to our roster of regional partners for the upcoming Premier League season. We thank Steve and Stuart for their tremendous support and look forward to seeing their branding at Carrow Road."