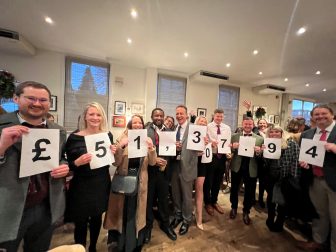 Finders Keepers in Oxfordshire has raised more than £50,000 for three local charities.
'TeamFK', which comprises around 90 people, have taken part in a real variety of fundraising activities, from bake sales and quiz nights to collection buckets and skydiving.
Throughout 2022, TeamFK has been raising vital funds for Dementia Oxfordshire, Oxfordshire Mind and Sobell House Hospice in really creative ways: a team of three cycled from London to Paris; two groups climbed Snowdon (one overnight, one dressed as dinosaurs); many offices held static bike challenges; people ran various distances (in Oxfordshire and overseas); team members could 'buy' a duvet day by donating to charity; and most recently an online auction enabled people to buy their Christmas gifts and donate at the same time.
The estate agency has also helped in other ways, volunteering time at one charity's event and funding the creation video content for another charity.
The firm's running total received a welcome injection in December, with many of its landlords donating a day's rent, which added over £11,000 to the pot and pushed them over their £50,000 target.
Emma Croft-Pearson, associate director at Finders Keepers, said: "We wanted to celebrate our 50th year by achieving something positive for the communities that we have operated in since 1972. I have to say, that I am utterly humbled by the astounding efforts of our team members. We have all had a tough few years so to see this goal not only reached, but passed, is testament to our people's determination and passion."