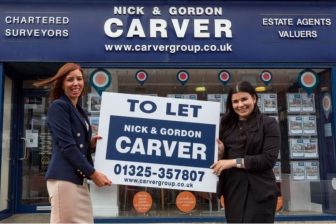 One of the North-East's best known estate agency firms is branching out into lettings after 30 years in business.
Nick and Gordon Carver Estate Agents, part of The Carver Group, based in County Durham, will offer a full lettings service, including tenant funding and vetting, rent collection, property management and overseeing inventories and inspections.
Experienced letting agent Jemma McCready has been appointed as head of lettings for the business.
The Carver Group recently announced that it has reorganised its management structure with Henry Carver joining brother James, and father Gordon, on the board.
Gordon's brother, Nick, who founded the company in 1991, has stepped down from the business.
Gordon Carver commented: "We have built an enviable reputation over the past 30 years, and this milestone makes us one of the longest-established, and most trusted, estate agents in the region.
"However, no business can stand still, and these changes are designed to put a structure in place that will ensure Nick and Gordon Carver Estate Agents, part of the Carver Group, is still going strong for the next 30 years."
Gordon and Nick became partners in Addison Hudson estate agents, which had offices in Darlington, Aycliffe, Northallerton, Richmond, Barnard Castle and Bedale. That business was sold in 1987, and Nick launched the estate agency business in Darlington, four years later, with Gordon joining in 1995.
The business now has offices in Duke Street, Darlington; Richmond; Northallerton; Newton Aycliffe; and a sub-office in Hurworth-on-Tees.