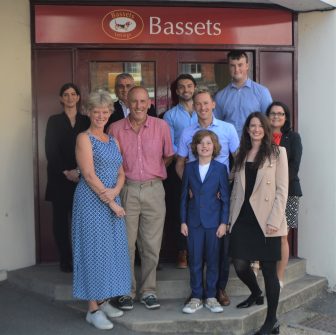 Northwood Salisbury has completed the acquisition of Bassets Property Services Ltd.
Stuart and Maryam Calvert, owners of Northwood Salisbury, announced yesterday that the deal had been completed.
Bassets Lettings, which is based in Cheviot House, 69-73 Castle Street, Salisbury, was set up in 2002 by David and Mary Clayton and has a portfolio of 412 managed properties.
Stuart Calvert said: "I have been with Northwood since 2003, working my way up to office manager within a year and buying the Northwood Southampton franchise in 2006. Northwood Southampton has consistently grown over the years and now has a team of 10 staff. In 2015 my wife Maryam and I opened a brand-new Northwood Salisbury office on Castle Street, Salisbury, which now has a team of four staff and is run by Maryam on a day to day basis.
"We are delighted to have completed on the acquisition of Bassets, which is a very successful family-run independent business with a superb reputation as an honest and transparent lettings business. There is a great synergy between our two businesses, as our Northwood business is very much a family-run business and I know that was important to David and Mary when they decided to sell. Maryam and I believe in delivering outstanding levels of customer service, and we treat all of our clients with the personal attention that we believe is so important.
"I am delighted to confirm that the entire team will remain in place at Bassets, with no redundancies. The business will continue to be managed by Quentin Thatcher who has been Head of Lettings there since 2013 and has over 30 years of experience in the property industry.
"We do not intend to make any major changes to how the business operates, as it is already extremely successful. However, the advantage of this acquisition for Bassets will be access to Northwood's fantastic resources which include outstanding marketing, IT, advertising and legislative updates etc. All of these resources will greatly enhance the services already being provided to landlord and tenants by Bassets.
"We look forward to working with the new team and expanding our presence in the Salisbury area. This acquisition will also further strengthen our property management service in the Hampshire and Wiltshire area. With four offices now in Southampton and Salisbury we are well equipped for future growth and are actively looking for new acquisition opportunities in the Hampshire/North Hampshire and Wiltshire areas."
Former owner, David Clayton, commented: "We would like to say a huge thank you to all our staff over the past 19 years who have helped take Bassets from being a new start to the market leader locally for lettings. Although the time is right for Mary and I to move on, we are delighted to hand over Bassets to Stuart and Maryam who, with a family run business of their own, share a similar ethos and commitment to looking after their customers."
Northwood MD Phil Gee added: "I would like to congratulate Stuart and Maryam on this fantastic acquisition. They are a wonderful couple and brilliant business owners. Their offices are already amongst the most successful in the Northwood network and this acquisition will further raise their profile in Salisbury. It will also put Northwood in an incredibly strong position in the local area and provide landlords and tenants with access to superb levels of customer service. I wish them every success for the future."